Home-page-a
We believe that streamlined processes allow for innovation and growth.
We value a mindset that embraces principles and tools to generate sustainable
improvements within an organization.
Home-page-a
We believe that streamlined processes allow for innovation and growth.
We value a mindset that embraces principles and tools to generate sustainable
improvements within an organization.
What is Operational Excellence?
"Operational Excellence is the execution of a well-devised business strategy. It involves its implementation in every process and system with minimum operational risks to keep up with the ever-changing market demands and create sustainable value."
Operational Excellence involves making continuous improvements within an organization to achieve a superior competitive advantage and maximize customer value. It contains the empowerment of people to embrace change while applying the right tools to the right processes. This approach allows us to create valuable products and services and achieve long-term sustainable growth:
Operational Enhancement
Boost efficiency
and compliance
while focusing on
continuous improvement.

Operational Transformation
Innovate for new services
and business models,
where doing the right thing
for your customers becomes
more than a methodology:
it is a state of mind.

Technology
Leverage
A sense of discipline and
urgency that provides
predictability and
drives progress:
Critical systems and tools
including dashboards
and KPIs.

People
Empowerment
Consistent
people development
to enhance relevant skills,
foster systemic thinking and
create a sense of urgency.
Benefits of Operational Excellence
Operational Excellence aims to save resources, time, and enables business growth internally and externally.
Companies that leverage best practices in Operational Excellence end up in superior value creation
and excel in value growth. Other benefits are: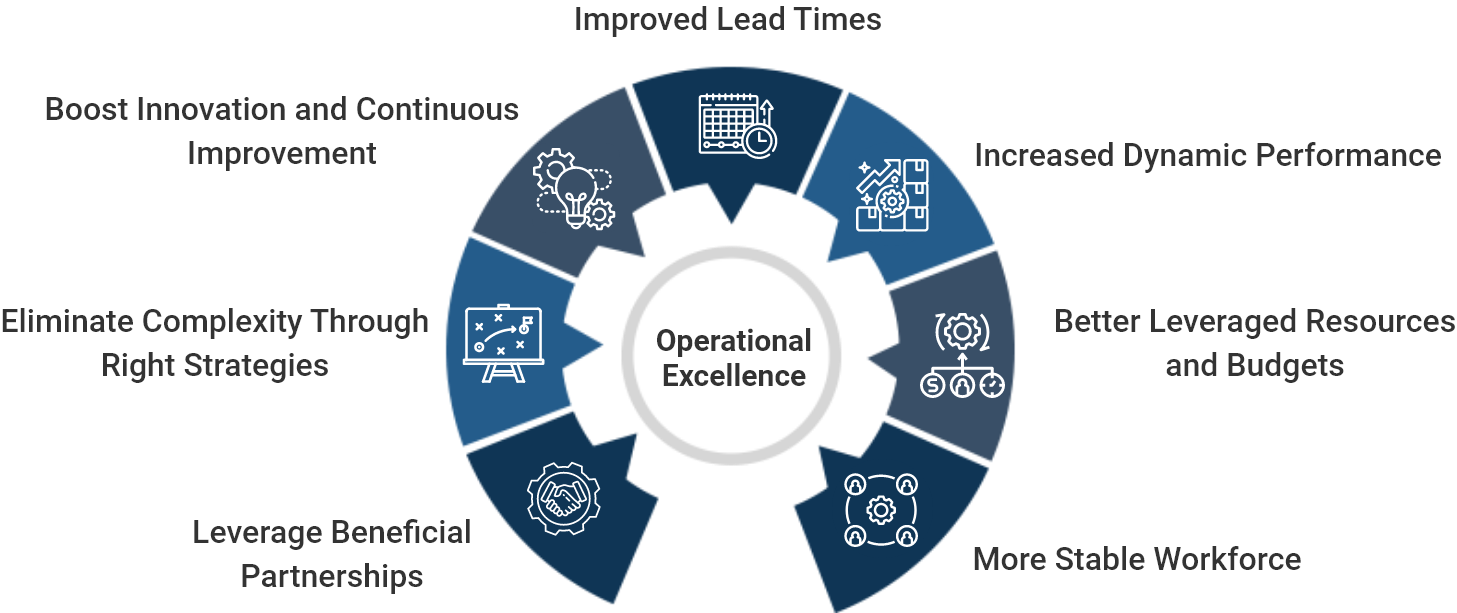 Operational Excellence creates value by integrating a
sustainable business model and proven operational strategies.
Operational Excellence

We support companies in identifying and managing value drivers and keeping their attention on activities that significantly impact value. We understand that a continuous focus on an organization's unique value drivers helps to prioritize value-creating initiatives to succeed and maximize value. This mindset enables teams to translate value creation's broad goal into specific actions, benefiting from innovative quantitative and qualitative methodologies that will enrich the standard operating procedure as a useful and essential business management exercise.

Enhancing business processes is fundamental to an organization's ability to execute business strategies and generate value successfully. It ensures that any methods in place are effective and cost-efficient. It identifies and improves existing processes to continue setting clear, achievable goals that connect process initiatives and improve business value. These goals are the foundation of each improvement project and will be the basis of the communication to the executives working on the projects, make it clear why specific improvements are being prioritized over others, and provide accountability for hitting specific targets. Consistent processes enable repeatable great results. Repeatable results mean less operational risk. Since rigorous processes make it easier to identify root causes, they reduce the risk of issues lingering in the operations for a long time. No company can change all its processes at the same time, so prioritization is key. Especially mid-sized companies need to be laser-focused on the ones that generate the most value because of their limited resource capacity. We support executives to manage these necessary changes.

The primary objective of an operating model is to bring an organizational strategy into the business and make it operational. The Operating Model is the high-level representation of how a company performs its activities from a functional, organizational, process, and governance perspective. It provides a common understanding to all stakeholders by visualizing the organization from different angles and showing the most relevant perspectives. When (re)designing your operating model, it is crucial to understand that these models can vary significantly from organization to organization, even in the same market. There is no single blueprint that fits every company. It provides, to some extent, even the edge of your organization's success in the market. Each operating model component requires alignment with the entire business strategy, ensuring that processes, organizational capabilities, resources, systems, and governance align with each other. Our expertise supports companies to redesign their operating model with precise harmonization. Our approach promotes agility, minimizing risks, and opening space for innovation.

Futureproofing is not just about surviving downturns and other assorted crises events. It is about ensuring that the organization looks forward to the growth opportunities in its market and beyond. It is about mitigating stagnation and being able to stay relevant and adapt adequately to environmental changes. It lies in the organization's hands to prepare the business to face unforeseen challenges with the right agility and diligence. We work hands-on with our clients to rethink current and past operational strategies, identify ambitious new business opportunities, and create a favorable environment for innovation.

Execution is a disciplined process, a logical set of related activities to bring a strategy to life. A proper business execution combines people, strategy, and operational goals and brings them into reality. Some of the core components to execute a strategy involve setting clear priorities and cadence of projects, focusing on relations between initiatives, transforming data into information, promoting transparent communication across the organization, or managing strategic activities' progress and challenges. We work with organizations to transform broad strategic imperatives and their connections into concrete actions.
Symptoms of an ineffective organization
An ineffective organization is usually not hard to identify as executives can recognize the symptoms quite well. Though quite often, they seem to get ignored, mainly when they are only affecting internal stakeholders:
Needless friction across internal groups

Process disruptions and poor workflows

Unclear roles and responsibilities

Missing resources and unnecessary double work

Low teaming and employee morale

Conflicting communications internally and externally
These symptoms are often dealt with simple reorganization efforts that are doomed to fail. Focusing on organizational changes alone and shifting reporting lines rather than addressing root causes usually do not gain the expected results. It is smarter to focus on the more significant root causes and aim the efforts towards functional alignment, improved decision-making, or more effective work processes, alongside necessary organization alignments. These will have a greater and more lasting impact on the company's success than simple organizational changes alone.
About
Operational Excellence
Effective organizations continuously thrive through a combination of multiple factors that are interlinked and aligned with each other:
Excellence in execution through aligned processes and methods

Effective support processes and systems

Performance measures and incentives aligned to objectives

Clear roles and responsibilities

Well documented and transparent decisions

Organizational structures that support company strategy
We work hands-on with our clients to rethink current and past operational strategies, identify and transform ambiguous business setups, and create a favorable environment for innovation. We transform strategic initiatives into concrete and impactful actions.
Our Case Studies
A major global biopharmaceutical organization realized the need to improve the value obtained from their annual strategic-planning process. As part...
Read More
Embrace Aurynion Operational Excellence services and
achieve benefits and impressive results.